DOVRE GROUP
Dovre Group is a trusted global provider of high-value project management services. We are named after the most famous mountains in Norway and represent an everlasting solid foundation. With the same solid foundation, we support our clients with decision making and execution of some of the most challenging projects in the world.

We partner with leading private and public organizations, ensuring successful development and execution of major projects. Together with our clients, we actively participate in the green shift and contributes to an environmentally and socially sustainable future.

Dovre Group has three business areas Project Personnel, Management Consulting and Renewable Energy.


Project Personnel
We have over 30 years of experience as a global provider of project professionals for large investment projects within our Project Personnel business area. We provide subject matter expertise within a wide range of competencies and industries. All our candidates go through an extensive selection process supported by ISO 9001. To secure the best match for a project, we take time to get to know the person behind the CV.
Management Consulting
Our Management Consulting business area is based in the Nordic countries and provides project management expertise for the development and execution of large investment projects.
We support our clients with project ownership, project management, and contract management within large and complex investment projects in both private and public sector.
Renewable Energy
In our Renewable Energy business area, we are specialising in the construction of renewable energy solutions, such as wind farm projects, solar power parks and transforming traditional energy production plants to renewable biomass fuel operations.
Locations
Dovre Group has offices in Canada, Finland, Norway, Singapore, and the United States. Our consultants execute assignments all around the world.
Financial facts
In 2022, the Group's net sales were EUR 203 million and its operating result was EUR 8.5 million. Project Personnel accounted for 45%, Management Consulting for 9% and Renewable Energy for 46% of the net sales. Across all our business areas, green energy projects accounted for 65% of total net sales.
The Group's parent company Dovre Group Plc is domiciled in Finland and listed on Nasdaq Helsinki (symbol DOV1V).
Executive team
Arve Jensen
Chief Executive Officer
President of Business Area Project Personnel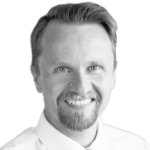 Hans Sten
Chief Financial Officer
Stein Berntsen
President of Business Area Consulting
Miko Olkkonen
Vice President Finland